As I look forward to what 2019 might bring, I can't help but look back and reflect on 2018. My biggest life change this past year was getting married in March and officially having a forever travel partner. I'm thankful for a husband that loves traveling and adventure just as much as I do and I'm anxious to see where 2019 will take us.
In 2018, I explored 5 new countries and 1 new state, bringing the total to 38 countries and 43 states. I'm hoping I'll catch up on some posts about those adventures shortly, but in the meantime, check out the rundown of my 2018 below.
January
In January, my bridesmaids and family "surprised" me with a lovely bridal shower where I got to spend time with some of the most important people in my life. We had a great time at a local restaurant playing games and dressing each other up as toilet paper brides!
As a welcomed respite from wedding planning, Kyle and I partook in our first restaurant week in Philadelphia. We chose Fogo de Chao based on some recommendations and we loved it! If you've never been, do yourself a favor and check it out. They have a delicious salad bar and bring you all sorts of meat straight to your table.
February
With the wedding quickly approaching, my bridesmaids and some very close friends threw me a bachelorette party in Philly. We went axe throwing and I came in second place to my sister. Not bad for my first time!
We then had a delicious lunch in the city, went pottery painting, and spent the night in Manayunk. It was really great to just relax and spend time with my friends before the wedding craziness began.
March
Only a few days before our wedding, we got slammed with an ice storm that turned into a heavy snowstorm. Many of the pine trees at my house were severely damaged in the storm and our wedding venue lost power. I know weddings are stressful, but not many brides have to think about relocating their wedding only days before the event!
My shed is hiding in the picture below on the bottom left!
Shout out to my dad and sister who hunted down the electric company workers and got them to turn the electric back on at our venue only an hour before our rehearsal dinner was to start. With that out of the way, Kyle and I enjoyed celebrating our marriage with our amazing friends and family. Can you believe the picture below was taken only a few days after the one above? So thankful the weather turned around for our wedding day!
We then set out on our first travel adventure ever together. We decided to spend our honeymoon in Hawaii, which offered us a nice mix of adventure and relaxation. We split our time between Maui and Kauai with a day stop in Oahu to visit Pearl Harbor. Some highlights included taking a helicopter tour over Kauai's Jurassic Coast, snorkeling with a shark, and riding bikes down the side of a volcano.
One of us was more prepared for the freezing cold temperatures than the other.
We got up super early to watch the sun rise above the clouds and volcano shown below.
For our day in Oahu, we made a very solemn visit to Pearl Harbor.
The next two pictures are views from our helicopter ride around Kauai.
April
We returned from our honeymoon in April and my house turned into mine and Kyle's house. We enjoyed the freedom of no longer wedding planning and just getting used to living with each other.
May
In May, we spent Memorial Day weekend camping near the beach with my parents. We had a great time playing games, sitting on the beach, and wandering around shops.
June
My sister moved to New York in 2018 and my other sister and I visited her in June. We went on a half day hike of the Sleeping Beauty Trail in Lake George. The picture below shows the incredible view from the summit. The next day we ventured out kayaking on Saratoga Lake. It was an adventure filled weekend and I hope to get back to visit in 2019.
Kyle and I also attended our first Phillies game together for a friends birthday in June. It was a hot day, but a good game to watch and spend time with friends.
July
July was a busy month with me chaperoning church camp, attending my college roommate's bachelorette party in Ocean City, Maryland, and spending a week on the river with my family hanging out and fishing. I even caught two fish at once!
August
The first weekend in August was quite a whirlwind as I was in a wedding on Friday night and was supposed to fly to Denver, CO for my brother's bachelor party very early the next morning. Halfway through the wedding reception, I got a text that my flight to Denver, CO was cancelled due to weather. This meant I was going to miss my brothers bachelor party! A few tears, several phone calls, and lots of website refreshing later, I was able to find a new flight that left very early the next day and I made it to CO, though later than anticipated.
I missed ziplining, but enjoyed walking around Denver with my sisters, eating Torchy's Tacos, hanging out with friends I hadn't seen in far too long, eating dinner at a Brazilian steakhouse where we ate way too many desserts, and a morning hiking at Red Rocks Park. I also got to meet my sister-in-law's closest friends as she celebrated her bachelorette party with us the same weekend.
If there's a bachelor party, there must be a wedding! My brother and sister-in-law got married in Rhode Island on Labor Day weekend. My family rented a house on a lake in Rhode Island and enjoyed relaxing and spending time together a few days before the wedding.
We spent some time wandering around Newport, Rhode Island and walked along the water in front of the Breakers Mansion. Unfortunately, you can't walk around the mansion grounds without a ticket, so we just admired the mansion from afar.
September
My brother had a traditional Indian wedding, which involved a sangeet, mehndi party, and the actual wedding. Check out the elaborate henna I got at the mehndi party.
Kyle and I at the wedding reception. There were a lot of laughs and dancing to be had!
After my brother's wedding in early September, Kyle and I had a few days at home and then set out for a week long road trip around Iceland. If you're looking for a fun, beautiful, and safe country to visit, definitely consider Iceland. It was so easy to drive around and everywhere we went was incredibly beautiful. Some highlights included seeing soooo many waterfalls, hiking in an ice cave, snorkeling between tectonic plates (yes, it was freezing!), getting up close to several glaciers, hiking in the highlands, and relaxing in the Blue Lagoon.
October
October was a challenging month health wise for my husband, which also meant we spent a lot of time at home playing board and card games. Of course I can't forget Halloween! I dressed up as R2D2 and had a great time passing candy out to all the neighborhood kids.
November
November was spent mostly traveling. I had a work conference in Last Vegas in November, so my friend and I went out a few days early and did some hiking. We spent a day hiking in Death Valley National Park and half a day hiking in Red Rock Canyon. Both were great parks to visit and hike, and we had a blast checking out some incredible views.
There were salt flats as far as the eye could see at Badwater Basin in Death Valley National Park. This is also the lowest point in North America.
View from the Turtlehead Peak hiking trail.
I hiked that mountain in the background!
I then spent several days in Las Vegas for my work conference. Though Las Vegas isn't really my scene, I did enjoy trying different restaurants and seeing a David Copperfield magic show.
I flew home very early Thursday morning, drove home in terrible snowy weather from the airport, worked from home on Friday, and left for Eastern Europe on Friday night. I visited Austria, Poland, Slovakia, Hungary, Slovenia, and Italy with Contiki for a week. There were Christmas markets everywhere and I especially enjoyed the one in Austria.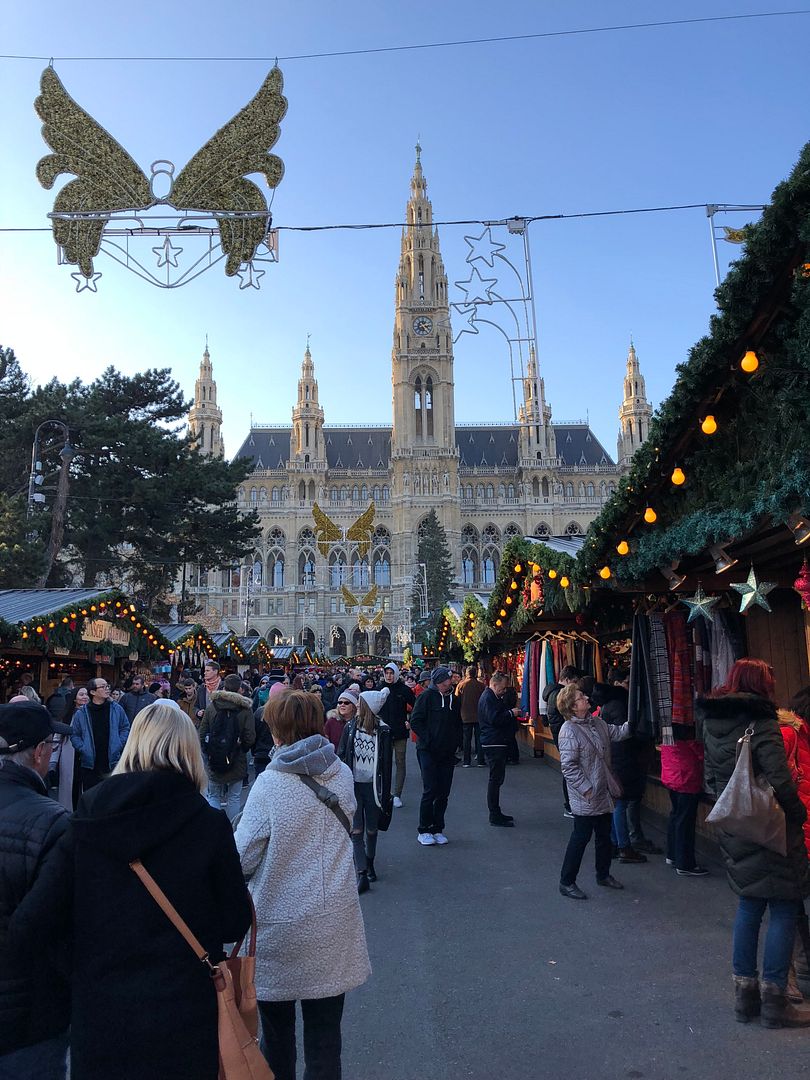 Though it was a very emotional day, the highlight of the trip for me was visiting Auschwitz Concentration Camp.
After a day visiting Auschwitz, I enjoyed a quiet walk around Krakow, Poland.
We had a quick lunch stop in Slovakia, which may have one of the biggest town squares I've seen.
I celebrated my 31st birthday by cruising along the Danube River in Budapest, Hungary. We saw some incredible views from the boat that looked just as spectacular during the day. I definitely want to visit Budapest again some day.
We went on a night time stroll around Ljubljana, Slovenia. There were dragons throughout the city and a medieval castle up on a hill overlooking the city below.
I've dreamed of visiting Venice for years and I finally was able to. Though the city was way more touristy than I anticipated, I was happy I got to do the stereotypical gondola ride.
The trip ended in Rome. I had visited previously, but I love the history of Rome and enjoyed an evening walking tour around the city.
December
In December, I attempted my second ever escape room and escaped, thanks to the friends that I went with!
I also spent the day in Philadelphia with some friends, eating at El Vez and visiting the Christmas Village. I would highly recommend both!
Now that 2018 has passed, I'm looking forward to visiting Croatia in February, Utah in March, and who knows where else as the year goes on! I'll leave you with a quote by Anthony Bourdain that really hit home as I was reflecting on 2018.
"Travel isn't always pretty. It isn't always comfortable. Sometimes it hurts, it even breaks your heart. But that's okay. The journey changes you; it should change you. It leaves marks on your memory, on your consciousness, on your heart, and on your body. You take something with you. Hopefully, you leave something good behind." – Anthony Bourdain
Check out my 2015, 2016, and 2017 yearly reviews.