Our first hike in Torres del Paine National Park was towards "Refugio Los Cuernos", aka "The Horns' Lodge."
It wasn't nearly as windy as the day before, but we still went hiking in 50-60 mph wind gusts! We hiked straight from the campsite and for the first part, I was fighting to gain any ground it was so windy. Luckily the wind calmed down some throughout the day.
We approached the sign below and my first thought seeing the mileage sign was, "okay, what am I getting myself into today?"
It wasn't long into the hike before we had to attempt our first river crossing. Normally these aren't such a big deal, but because it was so windy, water was rushing down the mountains. Luckily I was with a group and we helped each other make it across safely and mostly dry!
There were a few small ponds that we passed on our hike. They were mostly out in the open and the wind made it tough to enjoy the view.
The weather kept changing from cloudy and gloomy, to beautiful blue skies.
There were also quite a few wooden bridges to cross. Many of these limited the number of "passengers" to 1 or 2.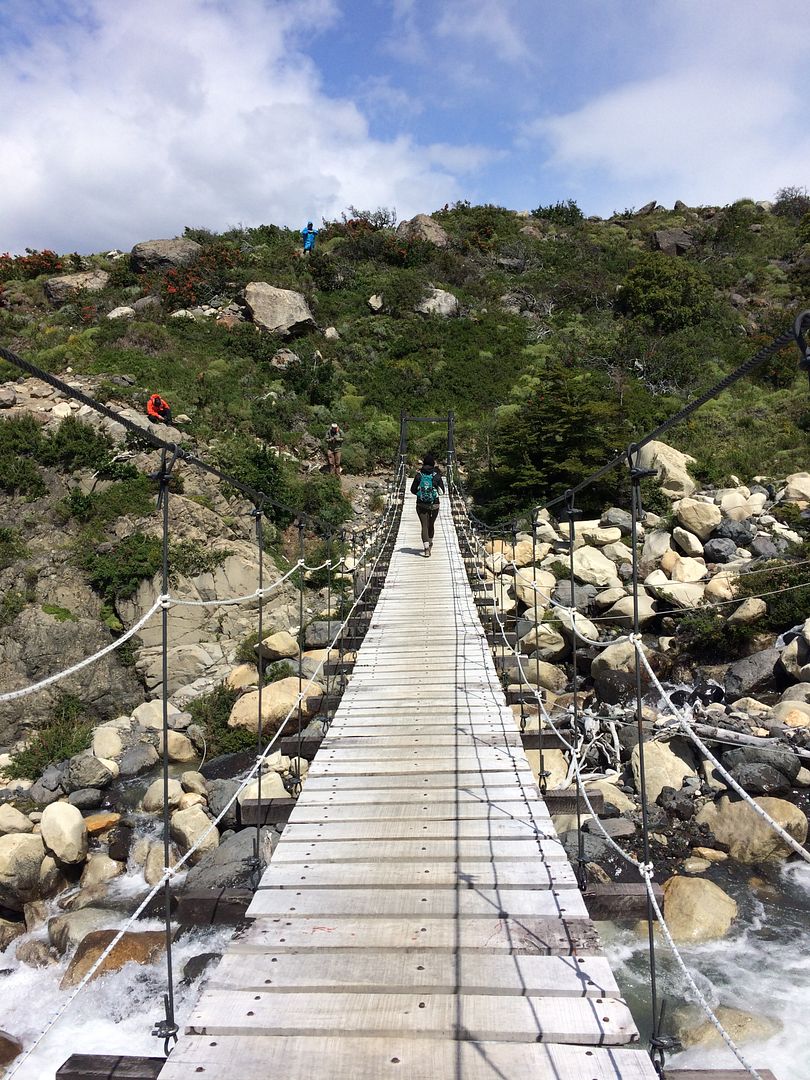 This was the end point for our hike. The water was so beautifully blue and I enjoyed the contrast of the red flowers scattered about.
Absolutely stunning!
The picture below is just a glimpse of the part that reminded me of Jurassic Park. It was pretty cloudy at this point, so we couldn't see too far off into the distance.
We had better weather on our hike back. It's crazy what views you miss always looking forward on a hike.
They use horses to take supplies to people doing multi-day hikes. The horses were so friendly and a nice addition to a beautiful backdrop.
The next day turned out to have much better weather and we set out to conquer the "Base Las Torres" or "The Tower's Base" hike.
Previous Post: Torres del Paine National Park, Chile